The Paradise Ranch Area 51 Tour Information
(You may purchase a tour using PayPal at the bottom of this page)

The Paradise Ranch Area 51 Tour is the all encompassing Area 51 experience. We will stop and visit all of the important sites on this tour. The first step will be arranging pick up and drop off at any hotel or location of your choice. The tours usually last between six and ten hours. The length of the tour depends on how long you choose to stay at each of the stops. After leaving Las Vegas, we head for HWY 93 and the Great Basin Highway. The following are the stops I recommend:
*Alamo, Nevada. Stop for gas and snacks at the Sinclair Station.
*Alamo, Nevada. The Lincoln County Sheriff's Annex to take pictures of the "white bus". The workers' "white bus" is usually parked there on the weekends.
*The intersection of HWY 93 and HWY 375 (Extraterrestrial Highway). This is a great spot to take pictures of the ET HWY sign and see where some of the Area 51 workers park their cars and ride the bus.
*The Alien Research Center. It is open on Saturday and Sunday from 10am to 6pm. They have a wide variety of souvenirs to choose from.
*The intersection of the ET HWY and Groom Lake Road.
*The most exciting stop of the tour: Groom Lake Road warning signs, the security equipment, and the "Cammo Dudes".
*The Rancher's "Black Mailbox" (now painted white).
*The ET HWY sign near the town of Rachel, Nevada.
*The Little A' Le Inn in Rachel, Nevada for an Alien Burger and plenty of souvenir shopping.
*A quick tour around Rachel, Nevada
*The Area 51 Rachel Gate.
At this time, we can stop at any of the prime viewing areas to sit out for a little while and star gaze or head back into Las Vegas. All of the above stops offer a great opportunity to take pictures. If there are any other spots you notice along the tour, we can stop and take pictures there as well.
**The cost of the tour is $150 per person.
***I can take from one to four people per tour!
****I gladly accept cash the day of the tour or if you choose to us a credit card or pay using PayPal at the bottom of this page.
email me if you have any questions: a51tours@aol.com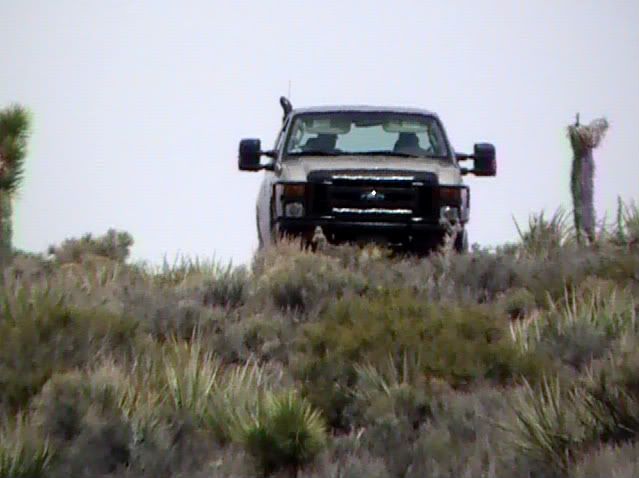 The "Cammo Dudes" are always on the watch!
Area 51 Tour
$ 150 USD
The price is per person. I will take a minimum of two people on the tour.